FISHING GOD MANNY
BEST DAMN FISHING BOOK OF ALL TIME!!!
FISHING GODS not only changed my outlook on how to fish, but my entire outlook on life.  CWB gives us incredible fishing tips through the telling of his life story, which is INSANE!  I sucked at fishing and hadn't caught a decent fish in twenty years.  After reading his book, I was bringing in keepers within 20 minutes of my first cast!
BUY THIS BOOK!
FISHING GOD LAWRENCE
" Fishing Gods - Written by Capt. Wild Bill is a must read! It was full of knowledge by a fisherman who spent his life on the water! It is a keep you on the edge of your seat book. I got the Audio version 1st and was so intrigued and enlightened by what I heard, I had to buy the book, I enjoyed it so much! It opened my eyes in such a way, that I would never go back to my old ways of fishing again. CWB - Opened my eyes, and really woke me up. I now can see things from a different perspective that I only got from reading Fishing Gods!!! Thank you Capt. Wild Bill. This book is going to go down as the best written fishing book Ever! "


FISHING GOD JAMES
Fishing Gods is a Fantastic Book.  Capt. Wild Bill puts everything a Fisherman needs to know in one place!  This Book is Dangerous because it will turn us all into some of the Best Fishermen in the World. Read and use these Secrets that he was nice to give away!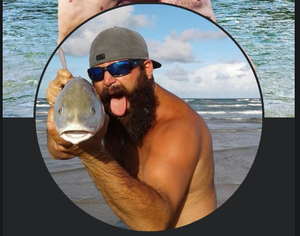 FISHING GOD JAY
" Greatest Fishing Book ever written and no one will ever come close to it and there will never be one like it! FISHING GODS is the most brilliantly written fishing book and it will be read for a 1000 years. Capt. Wild Bill's 13 rules for fishing addicts should be followed by every fishing addict in the world."
FISHING GOD MIKE
" FISHING GODS It is very informative and you will learn something. I DID AND I'VE BEEN FISHING FOR 55+ years... I highly recommend Fishing Gods to all. "
FISHING GOD BRIAN
" Capt. Wild Bill is our Modern Day Ernest Hemingway. FISHING GODS is a great book. "